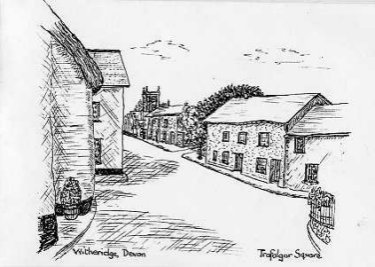 By clicking on the subject of your choice in the index below, you will be taken directly to your selected page, which will open in the same window. To view further pages within this section, you can use the next button at the foot of the page, to move you through the section one page at a time. You can also return to this index page by using the Previous button, again at the foot of the page, or you can also make use of your back button. You can of course also open all links from the index page in a separate window using the right click facility on your mouse and selecting "Open Page in New Window". There is also a fifth option of using the Site Index button at the foot of the page to navigate from the main index page. Five methods all designed to make navigating this site as easy as possible.


In 1950 we still had two of our original pubs - the Hare and Hounds and The Angel. A Tiverton brewery kept The Angel in hand for many years, but did little for the comfort of the customers. Hiring the upstairs room in winter meant two tiny buckets of coal for the two tiny fires for the evening - and overcoats. There was much more atmosphere in the Hare and Hounds and it was a sad day when it closed. The Mitre had been built about 1840 to catch the passing trade brought by the then new turnpike road. Sadly for it The Angel had got in first and cornered the market. About this time the original Parsonage house burnt down, and the Vicars preferred to live in The Mitre for 40 years until a new Vicarage was erected in the 1880's. The Mitre became a pub in the Seventies. Skittles, darts and pool teams always need a good and congenial base, and a pub can be a social meeting place.
1834: A labourer at Witheridge drinks 144 pints of cider over six days whilst mowing grass. Reproduced courtesy of the North Devon Journal
---
Previous

Go to Top

Home

Text Version

Next Page
Last Edited 03/07/2006 Copyright © 2000-2006 Witheridge
Unless otherwise indicated on the page in question, the photographic images reproduced on this site belong to the Witheridge Archives, and, as such may not be reproduced for commercial purposes without written permission. However, you are welcome to use any of the photographs belonging to the archive for personal and/or non-commercial use. Any material shown as not being owned by the archive may not be reproduced in any form without first receiving written permission from the owner of the material in question. The illustration of the view from Trafalgar is reproduced with grateful thanks to Peggy Miles.