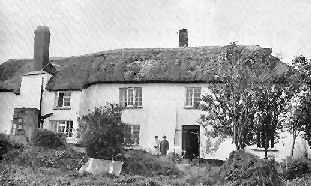 Mr Lloyd Maunder was born at East Essebeare Farm in 1873, and began his business around the year 1900. He bought his first pony and trap and began wholesale and retail dealing in butter, poultry and eggs. The butter was eleven pence halfpenny (5p) a pound.
From these humble beginnings, Lloyd Maunder, in 1987, were employing over employed over 1000 people and had a turnover of fifty-two million pounds at their Tiverton Junction business. The company had its origins in Witheridge, and had the railway come to Witheridge as planned, this development might have been in Witheridge. and these notes give an outline of the part played by Witheridge in the early years of their success.
The father of the founder of the company was born in Witheridge in 1838 and was christened Frederick James Partridge Maunder. After being educated at boarding school at Ashburton, he inherited much of his father's estate on his death in 1856, including Middlewick Barton, Thelbridge. In 1864 he married Elizabeth Elworthy in South Molton. Whilst on honeymoon Middlewick Barton burnt down, and was in due course replaced with something a little more grand. There were close ties between Thelbridge and Witheridge particularly between those families who were both Liberal and Nonconformist, such as the Lakes and the Maunders. The Maunders had nine children, of whom Lloyd was the seventh, like his siblings he attended the British (Chapel) School in Witheridge, and in 1888 he passed her majesty's inspector's examination successfully in Standard 7. By this time Frederick was using Lapford railway station to send sheep carcases to London and wool to merchants, he also built up a local dairy fed pork business, and a market for his "Red Ruby" Devon cattle.
In 1890 Lloyd left school to learn more of the butcher's trade in London, two years later he and his brother Hugh in partnership with their father opened a shop in Twickenham. Back in Devon Frederick never slaughtered cattle himself; they were slaughtered in an abattoir in Witheridge, and the meat was sold in local butchers shops, including the one belonging to the family. Hugh and Lloyd came back to Devon in 1893. Lloyd married Beatrice Goatly and by 1898 was farming East Essebeare bought for him by his father. In 1900 he moved to The Lawn in Witheridge and in 1903 he moved a few yards up Fore Street to Mill Park, a house almost opposite the families shop.
In the meantime Frederick had taken a leading part in setting up the Witheridge and District Dairy Company in 1893. He and his sons and some of the wives bought shares in this limited liability company, itself something of a rarity in the rural world at that time. Early success did not last, and in 1901 the company went into voluntary liquidation. Frederick had the money to purchase the assets and the company passed into Maunder hands. Lloyd took over the business, and at once expanded into sending fresh eggs, butter, poultry and rabbits to London by train, collected locally by pony and trap.
One day in 1898 Lloyd was down at Witheridge Mill when the miller, Amos Maire, showed him a letter from London asking for regular supplies of poultry. Amos could not supply the quantities required, but it was a break-through for Lloyd, for the writer of the letter was John James Sainsbury, and this was to prove to be the start of a business relationship between the two firms that still endures to this day. Lloyd Maunder, Sainsbury's oldest supplier, began sending eggs, poultry and rabbits from his farm at Witheridge, North Devon to the company's London headquarters in 1898. His products proved to be so popular with Sainsbury's customers that he soon had to start buying additional supplies from other local farmers. He set up a system of egg collection, picking up eggs, butter and poultry by pony and trap from neighbouring farms. All goods destined for Sainsbury's were taken to Lapford Station by Fred Leach with horse and trap, loaded onto trains for Exeter St David's, and there transferred to London trains for Blackfriars, there Sainsbury's would collect the meat and take it to their depot. This arrangement was unusual for the times because it by passed Smithfield market and caused a certain amount of friction.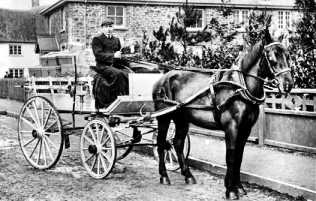 When Lloyd moved into Mill Park he converted the barn; the ground floor was for slaughtering pigs, which were then hoisted by winch to the first floor for storage and despatch. Local men Bert Westcott, Charlie Bowden and Ernie Hill worked there, the Butter Factory was run by William ("Billy Butterdabs") Greenslade.
By 1910 it was clear that the Witheridge site could not meet the demands made by Sainsbury's and others, so Tiverton Junction was chosen for the availability of industrial land and its nearness to the railway. In 1914 new premises were built and the Witheridge slaughterhouse was closed down. The Butter Factory continued until 1933 when William Greenslade retired and the factory closed. Close by the Witheridge butcher's shop continued with Lloyd acquiring control in 1929. The butter factory became a mill and feed store.
---