On January 24th 1925 the South Molton gazette reported the arrival of the new Vicar of Witheridge: Ordained in 1913, Mr Castlehow has spent the whole of his ministry in the Diocese. He was formerly curate of St Mary Major, Exeter, and of St Gabriels, Plymouth, and Assistant curate of Northam. Very popular among the younger generation, he was a scoutmaster and took a keen interest in the sports club. The yearly living of Witheridge is £353, with 49 acres of glebe. Rev J A S Castlehow. "Jas" as he soon became to the village, was a very keen scoutmaster and former scouts have happy memories of, among other things, scout camps at Mamhead and elsewhere. Sport was a great interest of his, and he enjoyed many a day watching Somerset play cricket at Taunton.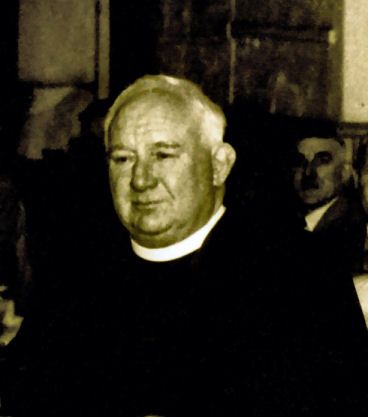 An enthusiastic tennis player, he relied on cunning rather than power. Some remember, on a summer evening when it was almost impossible to see across the net, his urgent cries of "don't waste the light". He provided the pony boots for the pony that pulled the roller over the three courts at the back of the Manse; he probably provided the roller as well. He was always to the fore in battling for the interests of his parish. He never owned or drove a car, but put his faith in his trusty bicycle, until his increasing weight proved too much for it. In later years the rambling Vicarage was beyond his needs, and he settled happily in the Pink House in the Square.
He was Vicar of Witheridge for 40 years from 1925, and a much-respected local historian who took a great and scholarly interest in the history of Witheridge, and he left us 70 foolscap pages to prove it, which is included in full at Appendix 1
TWO STORIES REVEALED BY THE LATE REV J A S CASTLEHOW
1243-4: A Witheridge couple Henry le Hoper and his wife Agatha were arrested at Chulmleigh after stealing goods, they were put in prison there, but killed their gaoler while he slept at night, They escaped and Henry sought sanctuary in St Mary's Cheldon, confessed and abjured the realm, his chattels worth (9/5) his wife Agatha fled, let her be outlawed she had no chattels.
(The Pleas of the Crown of Exeter Assize No. 175) Henry III reign.
1595: George Southcombe from Rose Ash, one of the Constables of the Hundred of Witheridge was riding his colt to Witheridge Fair on Midsummer day when he came upon two men fighting with swords, he rode at them requiring peace, his colt reared threw him and he was killed. Buried Rose Ash 27 June 1595. (Devon Transactions Vol XXXII Rose Ash)
Witheridge had a very early Presbyterian meeting house, in 1689 one was registered, this was probably in a cottage, unfortunately we don't know where it was. (Arthur Warne Church and Society 18th Century Devon)
---