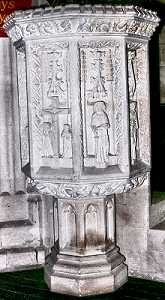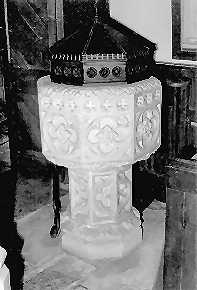 The entrance porch, although much restored, dates from the end of the 15th century, whilst the outer arch and the inner doorway are of depressed Tudor style. Inside you will discover some particularly fine arcading, with lively carving at the tops of the pillars. On your left is the exceptional 14/15th century font. Octagonal in shape, each face having a square containing a quatrefoil, with three smaller ones above it. Foliage is carved above and below, and the whole stands on a carved octagonal column. The nearby window shows Israel safely crossing the Red Sea, the baptism of Jesus, and Naaman told by Elisha's messenger to wash in Jordan. Looking East down the church one can appreciate the nave roof, a good example of plastered cradle work dating from the 15th century with fine bosses and the delicately carved wooden cornice of a West Country church of the period. Some consider the chancel roof to be a later imitation of cradle work, as the transverse ribs are in short straight lengths, instead of continuous curves.
The stone pulpit is a remarkable treasure, being one of only 70 in the whole country. Dating from 1450 - 1500, it bears five octagonal faces, each being a panel within a carved frame containing a figure beneath an ogee headed canopy of rich design. The central panel shows, in rough relief, a Crucifix with St Mary and St John. The remaining faces bear statues of St Peter, St Paul, a Bishop, and a female saint, probably St Mary Magdalena. The original heads of these statues are missing, believed knocked off in the 1650s at the time of the Puritan domination. Finally restored in the 19th century, the restorer, for some reason chose to ignore the female figure, and provided four male heads only.
---
Previous

Go to Top

Home

Text Version

Next Page
Last Edited 03/07/2006 Copyright © 2000-2006 Witheridge
Unless otherwise indicated on the page in question, the photographic images reproduced on this site belong to the Witheridge Archives, and, as such may not be reproduced for commercial purposes without written permission. However, you are welcome to use any of the photographs belonging to the archive for personal and/or non-commercial use. Any material shown as not being owned by the archive may not be reproduced in any form without first receiving written permission from the owner of the material in question.