Sylvia Rolle (nee Boundy) recalled her father Maurice moving into the Boot and Shoe shop in West Street in 1953. They came from Rackenford, where Sylvia's grandfather and great grandfather had been shoemakers in the Victorian Age. Things had been tough on Maurice in his early days, his father Ernest having died young, leaving Maurice to give up his hopes of being a butchers apprentice, in order to help bring up his brothers and sisters. From his father he had picked up the knack of repairing boots and shoes, but not that of making them. Maurice already had a weekly round from Rackenford, that took in Stoodleigh, Oakford, Knowstone, Cruwys Morchard and Witheridge, so they were already well known.
The Witheridge business was taken over from Mr F J Partridge, who retired to one of the early council houses in Butts Close. The premises included a shop, workshop, sitting room, kitchen and four bedrooms. A bathroom was added later. There was also a flower garden at the back of the house, and much of the ground below the Church Rooms served as a kitchen garden, apart from the strip belonging to Rosemont. Some of the ground belonging to the Boot Stores was let out as allotments to various villagers.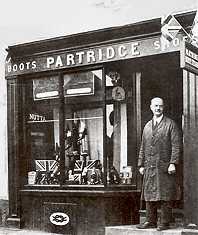 Maurice had poor health and died in 1959, and his daughter came home to help her mother run the shop. Sylvia married Percy Rolle and they lived in the house until 1975, when they went to farm at Cherridge, Meshaw. At the shop, the opening hours were 9am to 6pm Monday to Saturday, with early closing was on Thursdays. With the arrival of their son Phillip, they closed all day on Thursdays. The telephone (Witheridge 349) was installed in 1953, essential for ordering stock from suppliers like Quicks of Exeter. It also made it possible for customers to ring up: if they wanted to call in after hours, then they were never refused. Salesmen called regularly, usually with so much stock that it had to be laid out in the kitchen. On one occasion about lunchtime, their three year old son Phillip became impatient and spoke up, saying "Mister S, for God's sake, go."
School children by this time no longer wore boots, but many workers, particularly, did. Some of the older generation wore them with leggings. Popular makes were Holdfast and Dryfoot. There was a wide rage of "wellies", including Argyll and Bullseye. Mrs Boundy also stocked laces, brushes, and polishes such as Blossom and Kiwi. Men's socks and women's nylons were also stocked. There was a range of children's footwear on offer (Norvic was one) and also footwear for women. Credit was allowed to some customers, but by no means to all. Sylvia recalls one woman, saying in a loud voice to a friend outside, " The old B. wouldn't let me have them".
An annual January sale was held to try to move "stuff that hung about a bit". Customers came from the surrounding area as well as the village, and deliveries outside of the village were done first with an Austin 7, and later with an Austin A35 saloon.
In 1975 Percy and Sylvia moved to Cherridge, and Mrs Boundy sold the premises and built a bungalow on the lower garden site.
---