The information on Witheridge Scouts detailed below is taken mostly from the memories of Bill Williams, who served with Witheridge Scouts from the start in 1926, and later, in 1948, when he was Science and Sports Master at Ilminster Secondary Modern School, he restarted the 1st Ilminster Scout Group. He was affectionately known by his Troop as Ike, but usually was simply referred to as Skip or Skipper. Information recently received from Norman Newlyn who was one of Bill Williams scouts included the information that Bill moved from Ilminster around 1954 when he took up the post of Science and Sports Master at Yeovil Technical School were he continued his work with the local scouts. Thank you Norman for this information on one Bill.
1926: Witheridge Troop formed by Revd J A S Castlehow (JASC)
1927: One Patrol whose leader was Ernest Stenner, and included Bill Williams, Bill Hutchings, Basil Reed and Lionel Gunn.
1928: Summer Camp held at Mamhead Park (Sir Robert Newman)
1929: Summer Camp held at Mamhead Park - one patrol
1930: No summer camp this year
Troop expanded to two patrols, "Owls and Wood Pigeons" under Bill Hutchings and Bill Williams. Several younger boys joined including the Bourne Brothers, Roy Gunn, George Knight and Percy Holloway.
1932: This year the Troop attended West Country Jamboree held at Corston, near Bath, over Whitsun and saw the high standards attained by competitive camping. Henceforth, Witheridge Troop followed the same pattern. In August, three patrols attended Summer Camp at Mamhead, with George Knight as the patrol leader of the newly raised "Cuckoos". Camping standards rising now all the time, those attending included Derrick Nott, Donald Whittcock, Charlie Gard, Leslie Criddle, Douglas Kingdom and Ronald Welch.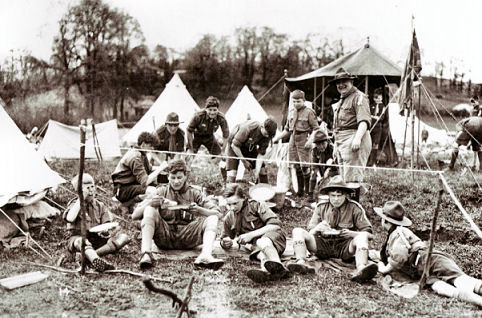 1933: Summer Camp again at Mamhead with three patrols enjoying good weather and excellent camping. In August the World Scout Jamboree was held at Godollo, in Hungary, which was near Budapest. By this time Bill Williams was a King's Scout as well as a troop leader, and was amongst a small group from Witheridge who attended. Revd Castlehow, Bill Williams, Douglas Kingdom and Ronald Welch were part of Troop VI which represented Devon, Dorset and Cornwall, under the leadership of Revd Castlehow as Senior Scouter.
NOTE: The fact that members of the Witheridge troop attended The Godollo, Hungary, World Jamboree, would have been quite an honour in 1933, but what is even more significant is the fact that JASC attended as a contingent leader. Now that is a good indication that his status in Scouting extended beyond the village.
1934: The troop formed a Rover Crew (over 18) under the leadership of Mr J H Dryer. Bill Williams became a Rover Instructor and continued to assist with the training of younger scouts. Along with Bill the other members of Rover Crew were Archie Nott, Gilbert Nott, Bill Hutchings. It should be pointed out that apart from Bill, none of the other members of the Rover Crew had any previous scouting experience. They attended weekend camps, (called "Moots"), and which were organised on a County basis. Other Rover crews existed in South Molton and Crediton, and the Witheridge crew got to know the Crediton group quite well. In August, a small group under the leadership of Revd Castlehow attended the Latvian National Jamboree held near the capital Riga, and the group included Gilbert Nott and Bill Hutchings
1935: In August another successful Summer Camp at Mamhead, with three patrols, and a good standard of camping. I attended as a Rover Scout, and used my hike tent as accommodation. Our Summer Camp lasted for twelve days, so JASC only had to use one week end for Sunday Church at Witheridge.
1936: The highlight of the year was the occasion of the West Country Jamboree, held at Mount Edgecombe Park, Plymouth in August. The troop sent two patrols, and three of the Rovers crew also attended in the form of Mr Dryer, Bill Hutchings and of course, Bill Williams. The grand parade was memorable, and we met the chief scout, and there were some wonderful camp-fire sing-along.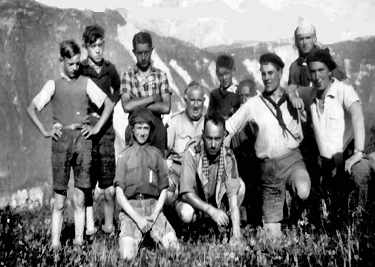 1937: We had all heard about the International Chalet at Kandersteg, Switzerland, and this year we were able to visit it. Our group was headed, as usual, by JASC, and included Bill Hutchings, Derrick Nott, Reg Nott, and Mr Dryer. It was a wonderful venue, set in the heart of the Bernese Oberland, and we had some lovely climbs, walks and trips. There were scouts from other parts of the world also staying in the chalet, and we made some lasting friendships. I recall that there were those from Holland, the Dutch East Indies, Wales and France.
1938: Again in August the summer camp was held at Mamhead, and I believe that there were again two patrols. Amongst those scouts present would have been E Darch and Derrick Nott.
1939: Once again JASC led us on a combined Rover and Scout trip to Paris and the French Alps. We were joined by one Parker Paul, an American lad whom I had met in Hungary in 1933. He was now a student at Dartmouth University in America. I recall that we looked briefly at Old Sarum and Salisbury before we embarked on the night ferry from Southampton to Le Havre. Naturally we were all captivated by Paris, a wonderful spectacle for we lads from North Devon. We were guests of a French Scout Group who found us sleeping quarters on the floor of there HQ and recommended eating places. We went to the Eiffel Tower, walked along the Champ Elysee, visited Versailles and went to Notre Dame.
Pralognan, up in the French Alps, below Mont Blanc. We made many climbing excursions into the mountains, on one occasion Parker Paul and I climbed the Dent du Dond, meeting much snow and ice. On our long rail journey home we saw that the train was crowded with many young French reservist being called up for service. World War Two was only a few weeks away.
1940 - 1945 I believe that some summer camps were held near Witheridge Moor.
1943 - While home on leave, I was asked to join in a light-weight bike camp during a few days in August. The venue was the estate of Major Stuckey at Hartland Abbey. I remember cycling to Lapford and taking the train to Bideford, whence we cycled to Hartland. The camp was near the sea shore in a cove. One of the scouts was Cedric Tudball. It seemed strange to be in scout uniform again instead of RAF kit.
August 1951 - I was now living in Ilminster, Somerset, and in 1948 had restarted the Ilminster Scout Group. We had arranged to have our summer camp at Shaldon, near Teignmouth. It transpired that JASC was also camping at Mamhead with the Witheridge Scouts. He visited us one evening, and I arranged for my Ilminster lot to call in on the Witheridge camp as part of a round trip. Accordingly we caught the Exeter bus one morning, rode up over Haldon Hill and alighted on Haldon Moor, at the back of Mamhead Park. we hiked across country and eventually reached the Witheridge camp at some time after lunch. My troop, (some 25 in number) were interested to see my old troop and scout leader. After a very rewarding get together, and when we had eaten our packed lunches, we walked the three miles to Starcross, where we caught the train back to Teignmouth. As I recall the Witheridge troop consisted of about seven boys, one of the lads, around 17 to 18 was called Pyne, and the patrol leader.

An entry discovered in the Scouting Milestones Website reveals that JAS Castlehow was working in a 'Scout Hut' at Etaples in Northern France, during the later part of 1917. From early in the war the YMCA had been providing Huts paid for by charitable contributions and operated by volunteers, with much of their funding coming from their branches in the United States. These huts, mainly new prefabricated constructions, provided some basic comforts for the troops, a canteen, the provision of writing materials and occasionally a camp cinema. With over 40 such Huts situated in Northern France, they were the ' parent organisation', under which B-P was happy to supply funds and his 'Scouts Huts'.
The Hut at Etaples was not the first of its kind, but possibly the largest. A 'Chaplain' often ran YMCA Huts, whilst a 'Leader' a manager usually ran Scout Huts, or staff from the Scout Association all carefully selected to be over the age of service, or unfit for active duty. However, at the Etaples Scout Hut, the Rev Cyril Butterworth ran it for most of the War.
Scoutmaster J A S Castlehow was working in the Etaples Hut in the later part of 1917 and he wrote to the Headquarters Gazette about a club reserved for Scouts that was kept open all day. It had a much-improved library with books donated by the Shere Scout Troop, Shere being a tiny place, near Guilford in Surry.
"It is one of the few libraries where a deposit is not needed against each book lent."
Acknowledgment
"Johnny Walker's" Pages on Milestones to Scouting - Mafeking
Battlefield Scout Huts and the Scout Ambulances of the First World War
---