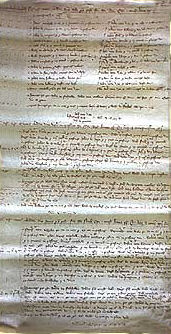 The Court Rolls of the Manor date from the 19th year of the reign of Richard 11, and the latest of them is dated 21 James 1. They are preserved in the Public Records Office in Chancery Lane, London, where they may be consulted. The reference for them is "Duchy of Lancaster Records, Court Rolls Bundle 57 , Numbers 683 - 701. There is no evidence as to how or when Witheridge became a Borough, though it seems likely that this was through the action of the Duchy of Lancaster
Five of the Duchy Rolls mention the Borough:
1499 - IPM of Sir William Huddersfield which cites a deed of 1490 putting his Manor, Borough, and Hundred of Witheridge into Trust.
1540 - Deed Number 107 of Tingey index of Deeds enrolled at Exeter is the sale of a Moiety or Halfyndael of the Manor, Borough, and Hundred of Wetherug, alias Wytherrugge, alias Witheridge.
1631 - Deed number 1818 sale of Thomas Hatch of Aller to Edward Chichester K T Baron of Belfast, and Lord Viscount Chichester of Carrickfergus in Ireland and the Manor of Witheridge.
1755 - The Lord of the Manor and Borough of Witheridge is Coulson Fellowes of Eggesford esq.; in the Court Leet there are Portreeve and other officers of the Borough appointed and sworn. He is also Lord of the Hundred of Witheridge. The Court Leet is a Hundred Court.
1850 - White's Devonshire and Baring Gould's Little Guide to Devonshire speaks of Witheridge as Anciently a Borough governed by a Portreeve, with a weekly market.
We will learn more if ever the Court Rolls are found. The Borough Bounds, (not the Parish) were anciently beaten.
---
Previous

Go to Top

Home

Text Version

Next Page
Last Edited 03/07/2006 Copyright © 2000-2006 Witheridge
Unless otherwise indicated on the page in question, the photographic images reproduced on this site belong to the Witheridge Archives, and, as such may not be reproduced for commercial purposes without written permission. However, you are welcome to use any of the photographs belonging to the archive for personal and/or non-commercial use. Any material shown as not being owned by the archive may not be reproduced in any form without first receiving written permission from the owner of the material in question.