This is a copy of a watercolour painting of Witheridge Square before 1911. The original belongs to Mrs Judy Roake of Victoria, Australia (JR). It was the property of her grandmother, Ellen Edith Gard, who was born in Witheridge on May 8th 1886. On the 14th January, 1911, Ellen and her sister Alice and Alice's husband, Albert Green, set sail on the "Wilcannia" for Australia. The painting has been in Australia ever since. Judy Roake has asked that this note be attached to the print as she says, "I would like to think that my Grandma's name was remembered in her home village. I know she loved Witheridge, she was always proud that she came from there.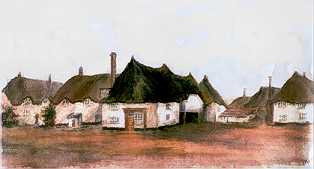 My grandmother Ellen Edith (Nellie) Gard was the third daughter and seventh child of Philip and Mary Lee Gard nee Woolway. She was born at Yeo Cottage in the village of Witheridge on 8th May 1886, and went to school at the National village school until she was 12 years old. After that, she went into service, both in London and up near John O'Groats in Scotland. I think she was in Scotland for 2 years. On December 20th 1903, she was in London to witness her sister, Alice's marriage to Albert Green at Holy Trinity Church, Wimbledon. The other witness was John Gard, who I think was their brother, also named Charles John Gard. (I have found there was a lot of tepetitious naming with the children of the Gard brothers which is a bit confusing at times).
On January 14th 1911, Ellen, her sister Alice, and her brother in law Bert Green, set sail on the "Wilcannia" for Australia. According to Grandma she didn't enjoy the trip at all, and I have since thought that if the "Titanic" had sailed a year earlier, Grandma would never have left England. I got the impression she had suffered a broken romance before coming out here. After meeting her cousins, Lydia and Percy, when they docked at Melbourne, another romance blossomed and she married Percy at the Parsonage in the suburb of Richmond, Melbourne, on February 26th 1912. At the time of the marriage Percy was a carpenter but on April 9th of the same year he commenced employment with the Victorian Railways. This occupation was the cause of the family living quite a nomadic life for a number of years, as he moved to different areas in South Gippsland. My mother Violet Ena was born on 18th November 1912 at North Melbourne, and then was followed by her brother, Leslie Percival on 13th July 1914 at Korumburra.
My grandmother and I were very close, and I can remember her telling me stories of her life in England. How I wish I could remember all the details now!
Although she couldn't play a musical instrument, she liked music, was a good knitter, a talent which she passed on to both her daughter and granddaughter, and loved to enjoyed herself. She also liked to dress well and was interested in the supernatural and royalty. I remember her telling me that she used to walk around the fence of Buckingham Palace on her days off. She would read anything she could about the royal family. She also used to attend the Christian Science Church at times. In her later years she developed senile decay (or what is known as Alzheimer's Disease) and eventually had to be put in to a retirement home. Except for a few lucid moments, she usually didn't know any of her family. She died of heart failure on 6th November 1967.
As well as the Gard family. I have other family interests in Witheridge too. Grandma's grandmother, Mary Gard, was born in Witheridge in 1797, although she was baptised in Thelbridge. Her parents were Richard Brewer and Ann nee Veysey, and her siblings were Ambrouss 1778-1797, William 1781, Emlin 1785 and Richard 1789. So far I have traced this family back to the baptism of Ambrose Brewer in Rose Ash in 1639 and he and his wife Joan appear to have settled in Witheridge by 1681, when his third son, Richard, was baptised there on 22nd May 1681. Other names associated with the Brewers are Trix, Bowden, Melhuish and Zeldon.
---