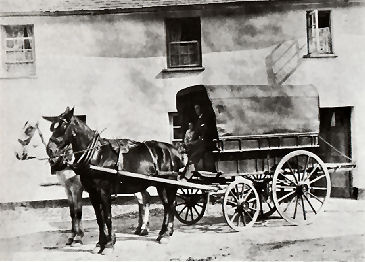 The mid eighteenth century saw the first Turnpike Acts, and in those places were the roads and lanes gradually improved, carts became increasingly common, and, from these it was only a short step to the horse and cart, and the arrival of carriers. The Exeter Turnpike Trust, formed in 1753, covering all the main roads around Exeter, and with the Tiverton and Barnstaple Trusts following 1757 and 1760 respectively. Old routes were improved, and new roads built, which avoided some of the very steepest hills. However, in many areas of North Devon the packhorse survived until well into the 19th Century. A new wave of Turnpike Acts in the 1830s and 1840s finally encouraged the Carriers to establish regular services. The earliest Witheridge carrier found so far is Mathew Bowden in 1706. In the census of 1841, Witheridge showed three carriers, William Webber, William Cole, and John Southwood.
By 1850, John Southcott ran a service to Exeter Thursday night and returning on Friday morning, and to Tiverton on Tuesday morning. By 1878, Witheridge had three carriers, with Mark Lee operating from an unknown address, Mark Thomas operating from his premises at Trafalgar House, and John Tidball from his premises High Cross House in Northernhay. From here, he operated the following weekly timetable.
Tuesday to and from Tiverton for the market, Thursday to Exeter staying overnight at the Crown and Sceptre by the Iron Bridge, and returning on the Friday via Kennerleigh and Black Dog. On Saturday, he went to South Molton, delivering parcels from Exeter along the way, and picking up goods and passengers at Meshaw or Alswear en route.
By 1900, he had retired and his son Thomas had taken over the service.



"A familiar figure on the road, in person of Mr Mark Thomas, of Witheridge, passed away on Wednesday morning last. For the last 25 years, Mr Thomas has been engaged in conveying persons to and from Tiverton in his covered van. Of a bright and cheerful disposition, the deceased had won many friends in the township of Witheridge as well as at Tiverton, where he was well known. Mr Thomas started the business of carrier in a small way, and as the number of passengers to and from Witheridge increased he was obliged to provide a larger conveyance, a pair of horse attached to a roomy four-wheeled van replacing a horse and trap. Prior to his death the deceased had three carrier vans plying between Witheridge and Tiverton, which he visited three times a week. He also worked with the London and South Western Railway, taking passengers from Witheridge to Lapford Station every Friday. Some time ago, Mr Thomas underwent an operation for cancer in the head, and great benefit appeared to result. The relief afforded however did not last long, but despite this, Mr Thomas did not give up his duties and continued to be about up to Tuesday May 27th he drove his van to Tiverton. On the following Saturday he fell ill while engaged in work on his farm. He expired three days later. For a number of years the deceased took a prominent part in the musical portion of the Witheridge Bible Christian Chapel, and was for some time Superintendent of the Sunday school there, in which work he took a keen interest. Nothing appeared too much trouble to him if he could perform a kind act, and on many occasions, he has driven preachers and laymen to and from their appointments. The deceased, who was about 50 years of age, leaves a widow and eight children, with whom much sympathy is felt". A new contract was to take the laundry from Coombe House and the Vicarages at Witheridge and Cruwys Morchard to Tiverton. The business grew, and soon Bill had two traps, a Brougham, a Victoria, and a two-horse brake, which they used for outings. For the Brougham and the Victoria, the drivers wore bowler hats, and for weddings, grey horses were expected and provided. They stabled the horses in West Street, though the carriage yard was beside the Tidballs in North Street. As with the Tidballs, the winter weather was a challenge, and when it snowed they applied soft soap to the horse's hooves. Once Bill was stuck coming up Morchard Woods and had to seek help, upon finding an extra pair of horses, he managed to reach the top. On reaching home, he found his young brother Ern asleep under the canvas. Now and again, there would be complaints about the slowness of the journey. The response from the driver would be to suggest the passenger got out and walked, to which came the reply "I would if I was in a hurry".

Thomas's was one of two rival carriers and transport businesses that occupied the property in Northernhay and Trafalgar Square that stretches from the entrance to the Parish Hall to the start of the broad pavement leading to The Square, the other being Tidball's. Like Tidball's, Thomas's He did the return journey to Tiverton three times a week. On Thursday, like Tidballs, he drove to Exeter, but via Black Dog, Morchard Bishop and Crediton. This was an easier route, but did require a long pull up on the way back from Morchard Road. Mark put up at the Elephant in North Street, Exeter, and in Tiverton, his terminus was the Prince Regent at Lowman Green. Thomas Tidball had an assistant, Arthur Bryant who was born in Witheridge in 1903, and at the age of thirteen started work. When Thomas drove to Exeter, Arthur would go with him in charge of a pony and trap. This he used to deliver eggs, butter and other produce from the Witheridge area to customers in Exeter, and to collect orders from town traders for Witheridge shops, farms, blacksmiths etc. On the return journey on Friday, the steep hills up through Sandford and Tridley Foot might prove too much for the laden carrier's cart. In such a case, the trap horse would be unhitched to help, or extra horses, known as tracers, used. In icy conditions, horseshoes would have 'frost nails' inserted to aid grip, but there were times when snowdrifts were insurmountable. Behind High Cross, their house in Northernhay, Tidballs stabled 8 or 9 horses, and there was a horse-wheel there that drove the chaff cutter. Here Arthur Bryant recalled cutting chaff at half past ten at night, and after a long day on the road, and all for three shillings a week. In addition to their van and trap, Tidballs had a Landau, a smart conveyance that was available for hired with Arthur driving. Arthur would also drive Parson Benson's Governess cart, and a four-wheeled carriage.

In 1914, the advantages of operating the new motor transport struck both families. Tidballs got in first in July when they purchased Reg T 4442, their 30hp Overland. These new motorbuses, offering, speed and comfort in the shape of padded benches instead of wooden forms, were available for outings. For Witheridge people outings were great events of the year, and often involved driving the party to Lapford Station to catch the Exeter train for Exmouth or Teignmouth. The horsemen of both families had to teach themselves how to drive the new vehicles, and gained their mechanical knowledge as they went along.

In August 1918 the Tidballs bought T 6396, a 1915 Willys Overland, and promptly replaced it the next spring with T 6746, a big 36/40 hp Leyland. In May 1919, Thomas acquired T 6872, a 38 hp Dennis capable of carrying 25 passengers and luggage and parcels. By 1919, the war and a railway strike had made it clear to both firms that motor transport would be a key feature for the future, and in 1920, The two families of the Tidball's and the Thomases decided that there was strength in union and jointly formed The Witheridge Transport Company.
---