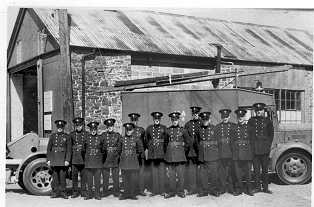 After the Tracey Green fire in 1945, there was a strong demand for a local fire service, and in 1946, the Witheridge Fire Brigade was formed as part of the then National Fire Service. The first Fire engine was a converted post office telephone van and tender, and was stationed in the former bus company garage in North Street. The initial members are seen here as a group at the entrance to the old Fire Station (formerly the bus company garage) in North Street, and lined up in front of their engine (a converted post office telephone van) and tender.
1948 Fire Service. Percy Brewer at Gunhole. Other members were Rolf Tarr, Frankie Kingdom, Stan Price, Bill Vernon, Reg Tapp, John Luxton, Bill Somerwell, Stan Selley. First fire attended was May 29th 1947 at Lower Thorne, Rackenford. The warnings were siren by day, and by night, a bell in every fireman's house. The Austin fire engine towed a Coventry Climax pump.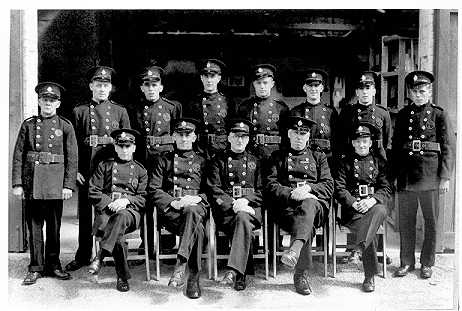 ---
Previous

Go to Top

Home

Text Version

Next Page
Last Edited 03/07/2006 Copyright © 2000-2006 Witheridge
Unless otherwise indicated on the page in question, the photographic images reproduced on this site belong to the Witheridge Archives, and, as such may not be reproduced for commercial purposes without written permission. However, you are welcome to use any of the photographs belonging to the archive for personal and/or non-commercial use. Any material shown as not being owned by the archive may not be reproduced in any form without first receiving written permission from the owner of the material in question.